The TSKUK are proud to host:
Sensei Aidan Trimble 8th Dan
Alongside Resident TSKUK Senior Instructors
Sensei Alan Parrish 7th Dan & Sensei Jason Hitchings 6th Dan
The course is open to all Junior and Adult TSKUK members
1 Day – £30.00
2 Days – £45.00
and also to Non- Members
1 Day – £40.00
2 Days – £60.00
Pre-booking and registration will be required to attend.
Saturday 23rd September 2023
Sportspark, University of East Anglia, Norwich. NR4 7TJ
Registration  – 10.30am – 11.00am
Training – 11.00am – 2.00pm
Sunday 24th September 2023
Waterside Farm Leisure Centre, Somnes Avenue, Canvey Island SS8 9RA
Registration  – 10.30am – 11.00am
Training course – 11.00am – 2.00pm
One official TSKUK Course stamp will be issued for each day. Please review your training history on your online portal, for how many TSKUK Course stamps you require to be eligible to grade for certain grades.
Sensei Aidan Trimble 8th Dan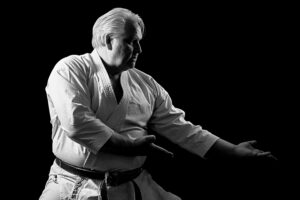 Aidan Trimble began training in the martial arts in 1972 and achieved Black belt 1st Dan in 1977 and is currently a 8th Dan.
A member of the British Karate team from 1978 to 1994 he was four times British champion, four times European Team Champion, and in 1983 he won the In Individual World Championships title in Tokyo, Japan.
He became a professional instructor in 1984 and in that time has coached throughout Great Britain, Ireland, Europe, Scandinavia, United States, South Africa and Japan.
Following his highly successful competition career Aidan worked in sports development. Worked as a professional body guard and also worked as an Actor securing many roles on TV but it is his work as an instructor that he has really excelled.
In 1986 he formed The Federation of Shotokan Karate. As Chairman and Chief Instructor he has developed clubs both nationally and internationally.
A member of the Writer's guild of Great Britain Aidan has written eight books and produced a series of DVD's on the martial arts with worldwide sales, the books having been translated into several languages. He has also written articles for several martial arts magazines.
He has received awards for his contribution to the development of Karate and sport from American, Norwegian, Italian, South African, Iranian, and Japanese sporting Governing Bodies.
Aidan now runs one of the most prestigious Karate centres in the Country and has produced many International competitors both junior and senior.
Sensei Alan Parrish 7th Dan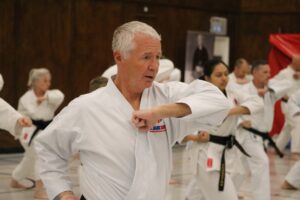 Sensei Alan Parrish started training Shotokan Karate in 1974 in Hadleigh, Essex and has been teaching professionally since 1994.
Sensei Alan is a former multiply Regional and National KUGB Champion and was a member of the ITKF National Squad for over 10 years.
Sensei Alan is the Chief Instructor of Westwood Karate Academy and is the Co-Founder of TSKUK.
Sensei Alan was awarded his 7th Dan (Nanadan) in Japan 2019 from Isaka Sensei.
Sensei Jason Hitchings 6th Dan
Sensei Jason Hitchings started training Shotokan Karate in 1981 Norwich, Norfolk and is the Chief Instructor of Eastern Shotokan Karate Association which he founded in 1995.
He has won numerous national and international titles all over the world including winning gold at the Shibuya-Ku, Tokyo in April 2018.
One of Jason's proudest karate moments was passing his 6th Dan (Rokudan) grading in March 2017 at the WTKO Honbu Dojo, New York.